Because they are a gift from nature, Morganne Bello sublimates fine stones.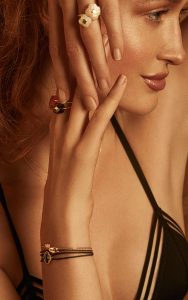 The Friandise collection is iconic. The recipe? A minimalist aesthetic where the 18-carat gold chain crosses the stone placed on the skin, with a simplicity that characterizes this beautiful House, founded more than 15 years ago and directed by Marc-Antoine Breuil.
The multi-faceted cushion with clover is offered in a range of colours, from white to black, green, orange and pink. The Honoré collection uses the same themes as Friandise, but gold (yellow or white) is nestled around the stone to magnify the femininity. The gems, rigorously selected, are from Africa, India or Brazil. How to choose between powdered pink quartz, bright blue lapis lazuli, silver-grey hematite, black onyx, amazonite, red agate or tanzanite? Rest assured: the jewellery matches. They even benefit from being next to each other and mixed… The latest two collections are to be discovered: Oversize and Victoria, which reinterpret the classics of the collection with a playful touch. Colourful, discreet, these creations are the essence of a timeless chic and an unmistakable femininity.
16, rue du Cherche-Midi – 75006 Paris – +33 1 43 20 15 69
3, rue du Marché Saint-Honoré – 75001 Paris – +33 1 42 60 14 04
www.morgannebello.com